Target Audience
This continuing educational conference is intended for practicing surgical and wound care health care professionals.
Learning Objectives
Identify and demonstrate the epidemiology and pathophysiology of lower extremity disease
Demonstrate the basic established principles of care for skin and nail disease
Identify different wound care techniques and technologies as well as their importance in managing chronic lower extremity wounds
Recognize the various presentations of infections of the skin, nail, soft tissue, and bone and demonstrate their appropriate management based on current literature
Identify and demonstrate complex diabetic and non-diabetic foot and ankle deformities and be able to reposition and stabilize these deformities with various internal and external fixation techniques and technologies
Critically evaluate and comprehend evidence-based outcome data for the treatment of disorders of the diabetic and non-diabetic lower limb
Approved for a Total of 16 CECH/CME credits, 2 ABPM MOC Points and 9.5 X-Ray Credits
There will be Four Attendance Verifications, 1 each AM and PM for Saturday and Sunday, which you are required to complete to earn all 16 CME credits.

ATTENDANCE VERIFICATION TIMES

Morning (Both Saturday & Sunday) - 11:30AM Eastern Time, 10:30AM Central, 9:30AM Mountain and 8:30AM Pacific Coast Time
Afternoon (Saturday) - 7:30PM Eastern Time, 6:30PM Central, 5:30PM Mountain and 4:30PM Pacific Coast Time
Afternoon (Sunday) - 7:00PM Eastern Time, 6:00PM Central, 5:00PM Mountain and 4:00PM Pacific Coast Time

There will be a pop up notification that shows up at the upper right of the screen to let you know when the surveys become available, but you don't have to respond to the survey immediately. A link to the survey will remain until midnight in the left menu under the menu item Attendance Verification Surveys. You just have to make sure to complete your Attendance Verifications by Midnight on the day that you earn the credit. You cannot go back to a previous day to complete your CME Verification as this would violate CPME rules.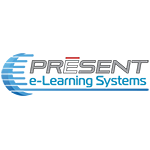 PRESENT e-Learning Systems is approved by the Council on Podiatric Medical Education as a provider of continuing education in podiatric medicine. PRESENT e-Learning Systems has approved this activity for a maximum of 16 continuing education contact hours.

The American Board of Podiatric Medicine (ABPM) has designated this conference for 2 hours of Maintenance of Certification (MOC) Category 2 points
Disclosures
It is the policy of PRESENT e-Learning Systems that the Faculty and Staff of our education programs with the potential to influence content, will disclose real or apparent conflicts of interest relating to the topics of our educational activities. Additionally, disclosure will be made of any intended discussions of off label/unapproved uses of drugs or devices. Speakers/authors are required to prepare fair and balanced presentations that are objective and are based on scientific fact. PRESENT e-Learning Systems has no financial interests to disclose.
Disclaimers
The information presented at this CME program represents the views and opinions of the individual presenters, and does not constitute the opinion or endorsement of, or promotion by, PRESENT e-Learning Systems or its affiliates. Reasonable efforts have been taken intending for educational subject matter to be presented in a balanced, unbiased fashion and in compliance with regulatory requirements. However, each program attendee must always use his/her own personal and professional judgment when considering further application of this information, particularly as it may relate to patient diagnostic or treatment.